Don't let the fear of having to set up PowrLine hold you back from accelerating and automating your roofing sales process today. In this article, I'll walk you through exactly how to set up PowrLine in just 60 seconds using the Account Customization Wizard.
Click here to start the account customization wizard and set up PowrLine for your roofing company.
NO credit card required.
You can have your FREE PowrLine account set up in just 60 seconds with a complete roofing sales management structure pre-populated based on what we have found works best for roofing companies like yours.
In addition to the pre-built sales management structure, you'll also immediately gain access to PowrLine's world-class roofing follow-up templates have have generated millions of dollars in revenue for roofing contractors like you. These "Pro Series" roofing follow-up templates are worth thousands of dollars all on their own, but you get them for free just for creating a PowrLine account with the Account Customization Wizard.
Your PowrLine account is free forever, but you'll need to upgrade at least one member of your team to a PowrUser in order to start automating follow-ups and using PowrLine's messaging capabilities. Click here to start the account customization wizard and set up PowrLine for your roofing company. NO credit card required.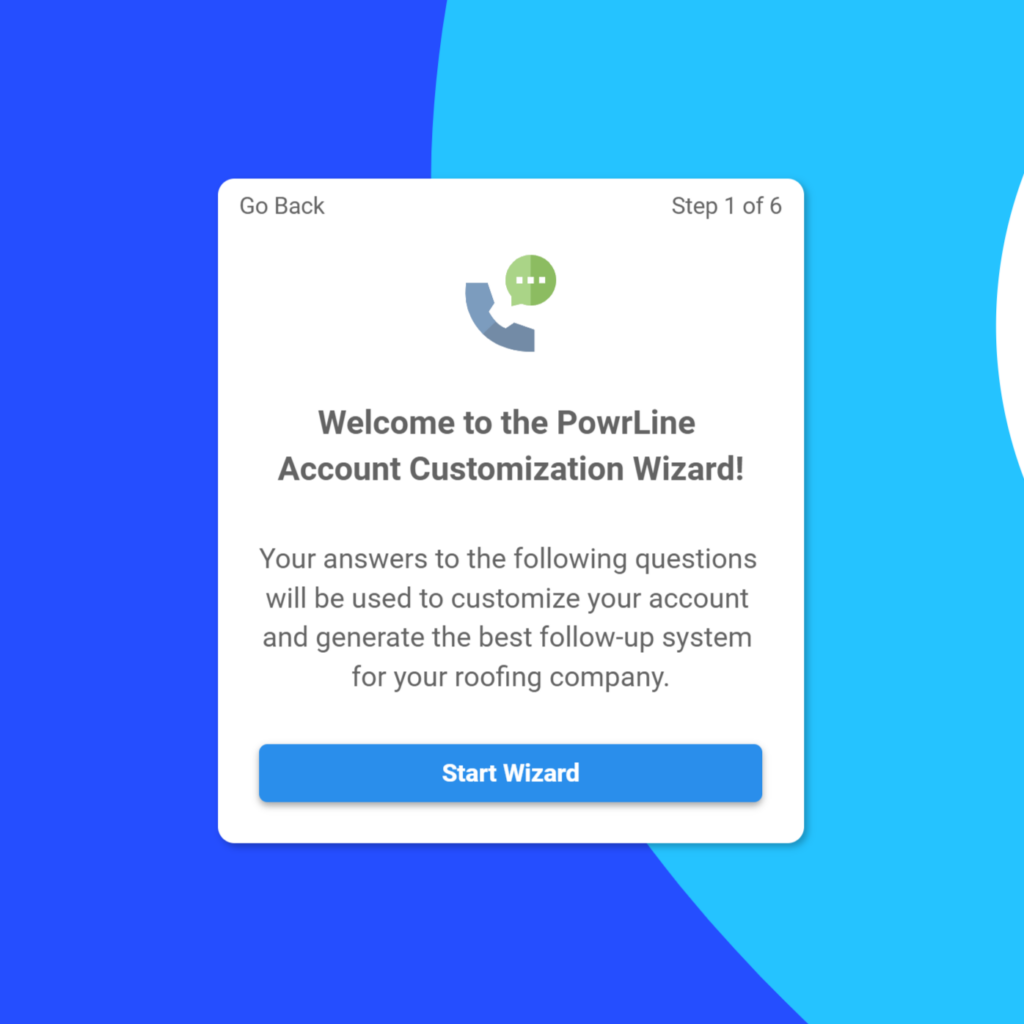 Set up PowrLine with Account Customization Wizard
The PowrLine account customization wizard asks five questions about you and your roofing company, and uses this information to generate a custom PowrLine account based on what has worked best for other roofers that are most similar to you. The questions are listed out below, along with the reason behind why we ask them.
1: What kind of roofing services do you provide to your customers?
We ask this because so we know what pipelines and stages (how PowrLine organizes contacts) should be added to your PowrLine account. If you don't do commercial work for example, we won't add a commercial pipeline to your account. You can always add pipelines later if you need them.
2. How often are your projects covered by the customer's insurance?
Companies that focus on insurance work need additional stages and follow-up automations for things like "Waiting on Authorization Letter" and " Waiting on Adjuster Meeting". If you do little to know insurance work, then we won't add these stages. You can always add these stages later if you end up needing them.
3. How does your company generate leads?
Some lead sources, like Angi or Google Ads, can benefit highly from a "Speed-To-Lead" follow up automation that immediately contacts new leads on your behalf and gets them to schedule a meeting with you (or keeps following up until they do). These leads are not only some of the most expensive, but are also often the most contested by your competition. We'll only add these if you rely on these lead sources though. You can always add these pipelines, stages, and pre-written automation templates later if you need them.
4. What is your company's name and address?
Since PowrLine send communication on your behalf, we need your company name and address to include in some automated communication. This information is automatically inserted into all automated follow-up templates and also self-updates if you ever update it later.
5. What is your name, email, and phone number?
We need this basic contact information to actually create your personal user account that you'll use to login to PowrLine. Your password will be emailed to you and can be changed in your account settings if desired. We promise not to spam you, but we will reach out to you to see if we can help you in any way and to discuss the benefits of updating to a PowrUser account (so you can actually turn automations on).
Click "Finish & Create Account"
Once you've clicked "Finish & Create Account" PowrLine is going to take up to about a minute to create your account for you and get everything set up. Once you're inside your PowrLine account, make sure to watch the "Welcome to PowrLine" video to get the basic lay of the land. You'll see that all your pipelines, stages, and follow-up automations have been pre-populated for you based on your answers.
This is not to say that you can't do further customizations to your PowrLine account, because you're absolutely going to want to tweak stuff and make it work better for your company over time. What the wizard has done though, is customized your PowrLine account to the point that you can get a PowrUser account, press go on the automated follow-ups, add some contacts, and immediately start making more sales using PowrLine.
We don't want you to get bogged down with tons setup and customization work before you're able to get some ROI. PowrLine is all about putting more money in your pocket as quickly as possible which is why we created the Account Customization Wizard to get you up and running fast.
Get Started Today
Enough reading! Click here to start the account customization wizard and set up PowrLine for your roofing company. Your PowrLine account is free forever and creating it doesn't require a Credit Card. If you want to understand more about our pricing and what we do charge, see our pricing page. Don't forget to reach out to support via the chat if you run into any roadblocks. We're here to help you make more money as quickly as possible.