The High Profit Roofing Business In-A-Box
Simple CRM software for roofers who want to maximize profit and still make it home for dinner.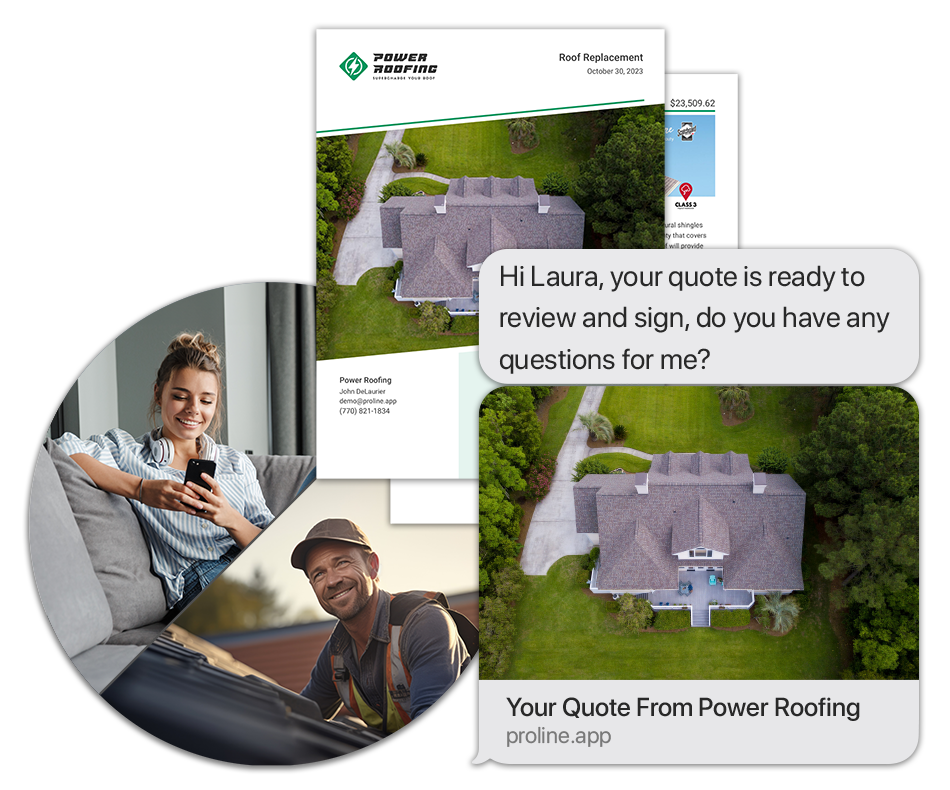 Software Built For Roofers By Roofers
Make More Profit
Sell more jobs and eliminate costly busywork with ProLine's AI-Powered business automation engine.
Get Results Fast
ProLine is so simple anyone can learn to use it confidently in under an hour. Good software is simple software.
WOW Your Customers
Give a 5-star experience from lead to final invoice (and beyond) with ProLine's pre-built text & email automations.
Tools For Roofing Success At Your Fingertips
Project Management
Effortlessly track, schedule, and manage projects across all stages of the roofing process.
Quotes That Win
Generate stunning quotes in seconds. Send by text message and email for digital signature.
Built-In Work Phone
Virtual phone numbers will unlimited calling and texting for every team member.
Auto Follow-up
Convert more quotes into sold jobs with automated sales follow-up by text message and email.
Speed-To-Lead
Instantly engage with new leads from your website or other sources by text message and email.
Review Generation
Get more online reviews from happy customers with automatic text message and email requests.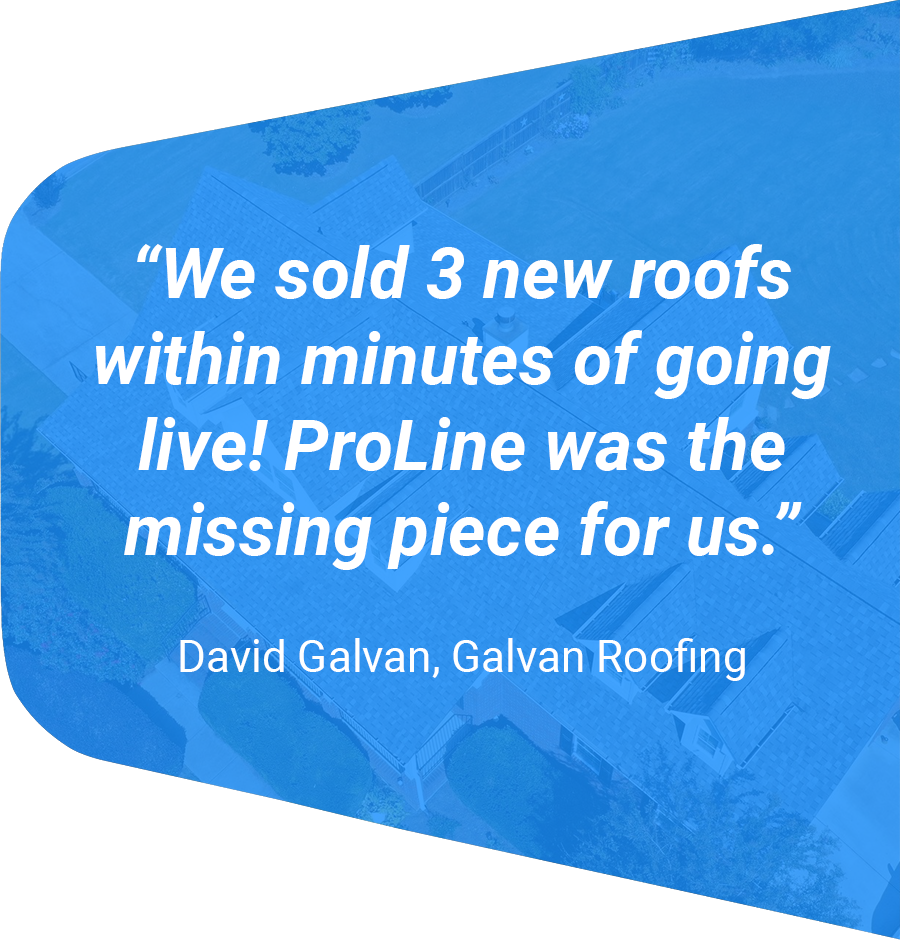 Create Your ProLine Account for FREE
Our basic plan includes project management and is FREE forever! Start managing your jobs on ProLine today and only upgrade if you want more features.
ProLine makes it easy to sell more jobs at higher prices, all while saving hours of time each week! It's ridiculously simple to use and generates sales like you wouldn't believe. Good business owners look for leverage to make the most of their time, and ProLine is a powerful source of leverage.
We've really appreciated the work the team at ProLine have put in to help us improve and automate our sales process. ProLine is a simple but powerful app, and it's already helped us to be more organized and effective. Highly recommend ProLine for any roofer, it will change the game for you!
Sell More Jobs With ProLine. Guaranteed.
What would you do with $135,000 in additional sales revenue next month?
We guarantee you'll sell at least one additional job within the first 30 days of using ProLine, or we'll fully refund everything you've paid us.
There's not risk to get started. You can't afford to not be using automated communication!
Customer Support & Onboarding You Can Count On
We've been in your shoes and we're here to help!
As a self-funded team of current and former contractors, we believe that thorough and easily accessible customer support is a non-negotiable part of our business as a tech company. 
From the moment you create an account with us, and for as long as you're with us, we're here to do what it takes to help you reach your goals with ProLine automations and integrations.
Get Instant Access to ProLine
Create a FREE account in just 30 seconds to explore ProLine's project management, automation, and other features. Only pay if you see the value!
We Love Our Awesome Users!
We Proudly Integrate With
Want More Sales in Less Time Like Delaurier Roofing?​
Your business can start seeing results like these within just 30 days. Our support team is standing by to help you get more sales as quickly as possible.
Residential Roofer in Athens, GA
Increased Sales Close Rate by
0
X
DeLaurier Roofing started using ProLine in February of 2021 and have seen substantial improvements to their sales performance and business efficiency. 
The measured improvements to their business include the following:
Increased Close Rate from 27% to 64%
130+ Five-Star Google Reviews Generated
Over 1200 Hours of Time Saved
Close rate is the percentage of quotes delivered to homeowners that become sold jobs. ProLine's sales follow-up feature directly impacts this number, resulting in substantially increased revenue and profitability. 
ProLine's other automations and organizational features also help DeLaurier Roofing save over an hour's worth of time each workday per team member.
Frequently Asked Questions
Unlike other CRMs, ProLine takes substantially more work off your plate than it puts on. This is because of how we're using AI to automate 10x more of the roofing sales process than any other platform. Our vision is to eventually automate the entire sales and production process for roofers.
You do! Any leads, contacts, projects, or other data you add to ProLine is 100% owned by you. ProLine doesn't have permission to move or use that data for any reason. ProLine is just a tool for YOU to sell YOUR leads and manage YOUR contacts. 
We integrate with most software on the planet via Zapier, but we also have direct integrations with many home service software tools, including RoofQuotePRO, SumoQuote, CompanyCam, and EagleView.
If you downgrade your account to Starter, we will hold your phone numbers (ProLine numbers) for 10 days before releasing them back into the public pool. On request, we'll transfer the numbers to the phone service of your choice, free of charge.
Absolutely. The ProLine team is available via the green chat icon (lower right-hand corner). Customer support is important to us so we do our best to respond immediately to all messages.
ProLine can automate almost anything you can imagine, including speed-to-lead, lead rehash, appointment reminders, sales follow-up, job updates, review requests, and more! While the most popular automations are automated text messages and emails, ProLine can also automate other tasks like changing a project's stage, or sending information to other software platforms to avoid double-entry.
You keep your data, for FREE, forever. If you cancel, you will lose the ability to manually or automatically call/text/email via ProLine, but you will retain access to the ProLine interface and data forever.
You can cancel your account at anytime by going to the Manage Billing page inside ProLine, then "Change Plan", then switch to our free "Starter" plan. No need to call, email, or talk to anyone!
No credit card is required to create a ProLine account and explore ProLine's automation sequences and follow-up templates. A credit card is only required once you're ready to upgrade to a PRO plan.
Discover what ProLine can do for your roofing business!